RIPPLE EFFECT: HOW DUI PENALTIES CAN LEAD TO POSITIVE CHANGE
Penalties for DUI arrests and convictions include thousands of dollars in court costs and fines, loss of driving privileges and probation. Those DUI penalties are meant to punish the defendant for the offense and hopefully dissuade future offenses.
Traditional DUI penalties can be more effective if combined with a program that encourages offenders to understand what they have done and take responsibility for their actions. In that way, they can work through how destructive their actions truly were.
Sentencing a defendant to go through the YouImpact program can cause a positive ripple effect, instead of beginning a path which leads to re-offending and possible tragedy. Of the hundreds of defendants who have gone through the program, only 1 percent feels the program was one of the penalties for DUI.
The introspective nature of the YouImpact program requires defendants to put themselves in the place of the people in the tragic stories shown in the videos. At the end of the test portion of the program, each defendant must write a letter to themselves detailing how they will not fall into the same situation again. And studies show online programs like YouImpact can help reduce recidivism rates by 35 percent.
THE RIPPLE EFFECT
Destructive behaviors lead to dangerous choices when driving.
Dangerous choices lead to an arrest and a sentence to the program.
The program shows how impaired driving touches many people in the community.
The YouImpact program experience leads to self-examination and realization occurs.
The experience leads to acceptance and motivation to change destructive behavior.
Once change is made, pay it forward.
The result is a better future for our community and those struggling with making poor decisions.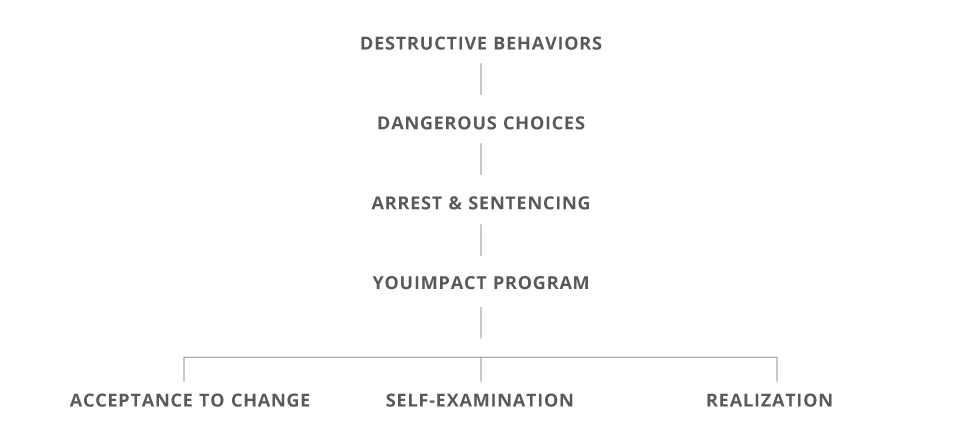 THE PROGRAM RESULTS IN A BETTER FUTURE FOR OUR COMMUNITY AND THOSE STRUGGLING WITH MAKING POOR CHOICES